First time buyers guide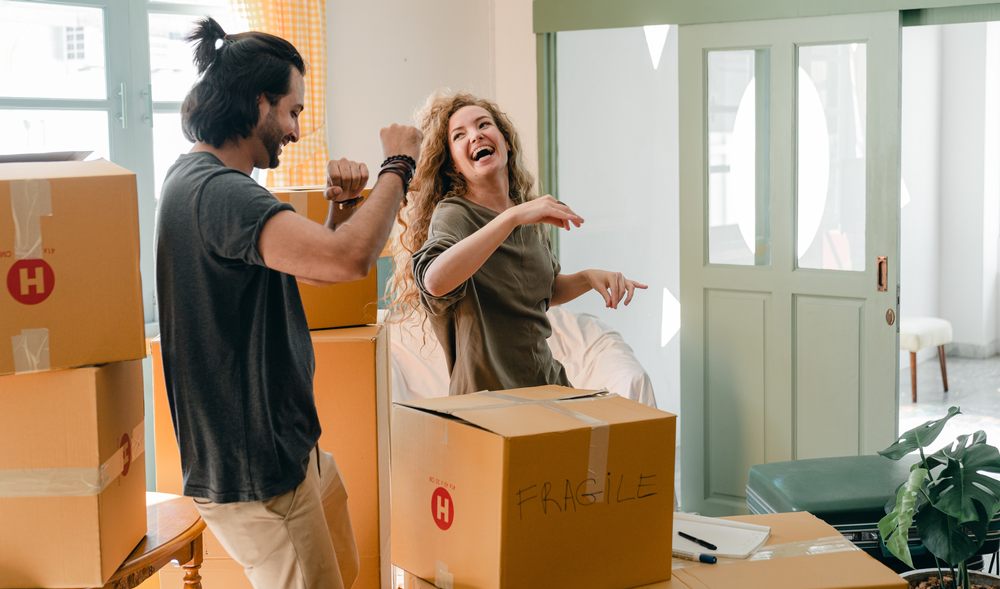 Our first time buyers guide is for people who want to better understand the many steps of buying a home, from the essentials of saving a deposit and getting mortgage ready, right through to our best tips for a straightforward moving day.
We know the mortgage and buying process can feel a bit stressful, even though it's an exciting time too. Mortgages can seem complicated. But they don't have to be with the right help.
The Co-operative Bank has experience helping people to buy their first home and we're ready to support you all the way. Get yourself comfortable, because we've got plenty of expertise to share.
Buying a home
Most people who buy a home in the UK use a mortgage to help them pay for it.
A mortgage is a loan that's secured against (linked to) the property and usually taken out over a long period of time.
Taking on a mortgage is a big commitment and it's your responsibility to continue to make the full mortgage payments when they are due or you could ultimately face repossession of your property. Repossession is where the lender takes back possession of the property if you default on your mortgage payments.
As well as the mortgage, you also need to put down some money towards the cost of the home, as lenders won't let you borrow the whole amount.
This is called a deposit and usually comes from your savings, although it could be a gift from your parents or another source.
Find out more about our mortgages for first time buyers
What can you afford?
Working out your budget for your first home is important. This will help you shortlist and view homes that are affordable to you.
Your buying budget depends on two things -
The size of your deposit.
How much you can borrow as a mortgage.
Saving a deposit
Usually, unless you're a cash buyer, you need to save up a deposit before you can get a mortgage, and most people do that in a savings account or ISA.
The Lifetime ISA is designed for long-term tax free savings and the government will boost your savings by 25%, so it's worth considering.
Some first time buyers are gifted money from parents or close family members to help with their deposit.
The bigger the deposit you can put down the better, as this provides less risk to the lender and yourself if property prices were to fall.
It also means that you may be eligible for more preferential mortgage rates. This is because a larger gap between the loan amount and the property value can reduce the risk of negative equity, which is when you end up owing more than your home is worth.
Those with a relatively small deposit will usually pay a higher rate of interest to reflect the greater risk the lender is taking. This is why Lenders reserve their most competitive mortgages for borrowers with bigger deposits.
What is an LTV?
The amount you borrow as a proportion of the property's value is called the 'loan-to-value' ratio.
As an example, if you buy a £200,000 home with a £150,000 mortgage and a £50,000 deposit, you are borrowing at 75% loan to value, or LTV.
If you have a 10% deposit you can only choose from mortgages available at up to 90% LTV for example.
This is a bit technical but important. When you look for mortgage deals, they will state they are available up to a certain LTV (proportion of the property's value), so you need to choose from those that you are eligible for.
Saving as much as you can makes good sense but remember to also budget for all the other costs of buying a home and set aside enough money to cover them.
Read our guide, The costs of buying a house
How much can I borrow on a mortgage?
The Money Helper website (previously known as Money Advice Service) has an online mortgage calculator that can give you a rough idea of how much you can borrow.
This is just a guide and the amount you can actually borrow on a mortgage is dependent on each lender's own affordability calculations, which are all different.
They will look at your income, outgoings and conduct a credit search.
You can get a free copy of your credit report from a credit reference agency, such as Experian or Equifax.
The lender will also consider the term of your mortgage, which is how long you want to borrow the money for.
Typically mortgages can run for 25 years but more borrowers are taking out longer mortgages of over 30 years to reduce their monthly repayments.
As a rule of thumb, you can expect to borrow a maximum of 4.5 times your income, but this could go to 5.5 or higher in some cases.
This is a guide though as all lenders have their own loan to income assessments. They will take into account commuting costs, any children you have and what you spend on monthly subscriptions or eating out, for example.
Find out what you could borrow
Some lenders will give you an indication of what you may be able to borrow through an online mortgage calculator. Or you can get a more detailed Mortgage in Principle (also called a Decision in Principle).
This is a statement from the lender suggesting the maximum amount they can lend you based on what you've told them.
It's not a binding offer from the lender because they haven't verified the information you've told them, and you're not obliged to take out a mortgage with them.
But a Mortgage in Principle can be a useful way to get a clearer idea of the maximum mortgage you can borrow. It's also good to show estate agents you are a serious buyer.
Book a phone appointment with The Co-operative Bank to get a Mortgage in Principle and find out how much you could borrow
Find out more about our mortgages
How to get a mortgage
Getting mortgage ready
If you are planning to buy a home, it's a good idea to get mortgage ready by preparing your finances now.
That means saving as much as possible for a deposit as well as putting yourself in the best borrowing position.
You can do that in a few ways:
Keep up to date with bills and debt repayments
Stay within your overdraft limit
Check your credit record
Make sure you are on the electoral roll.
All of these things could make it easier for you to obtain a mortgage.
Where to get a mortgage
You can get a mortgage directly from a Bank or Building Society or through a mortgage broker.
There are lots of mortgage brokers across the UK, varying from one man band operations to large national firms.
Both will offer you mortgage advice to ensure you get a deal that meets your needs.
Mortgage Advisers and brokers are professionally qualified and regulated, and they are experts in the mortgage market.
Mortgage Advisers who work for Lenders will look for the most suitable deal from their own range, while a broker will look across a range or even the whole market to find the right mortgage for you.
Both may operate face-to-face, over the phone or online.
For borrowers who are confident about what they want and don't require mortgage advice, some Lenders/brokers will offer an 'information only' service which is also known as Execution Only.
Choosing a mortgage
There are thousands of mortgage deals available so it can be overwhelming to work out the right one for your needs.
Best Buy tables and comparison sites only tell half the story because not all borrowers are eligible for all mortgages.
Find out more about choosing the best mortgage deal for your needs in our guide to the different types of mortgages
Repayment or interest only mortgage?
There are two main mortgage types, Interest Only or Capital and Repayment.
An Interest Only mortgage, is where your monthly repayments only pay the interest accrued. Therefore, the original balance will still be payable at the end of the mortgage term. It is important that you have an appropriate repayment vehicle in place, i.e. savings or an endowment that will fully repay your mortgage at the end of the term.
The vast majority of mortgages are taken on a capital repayment basis, where each monthly payment consists of the interest on your debt, plus some of the amount you borrowed. The mortgage is fully paid off by the end of the term subject to making all your payments in full and on time.
Fixed or variable interest rates
The lender charges you interest on what you borrow, and your rate of interest can be fixed or variable dependent on the mortgage product you choose.
If it's fixed the interest rate is set for an agreed period of time.
A variable rate of interest can go up or down and can include standard variable rates, discounted variable rates, capped rate and tracker rates.
Mortgage fees
There are various fees applicable when buying a property, for example, solicitor fees, stamp duty, valuation fees, survey fees, moving costs etc. Lenders also offer mortgage products with and without fees.
If you opt for a product with a fee, you can pay this up front or opt to add this to the mortgage, however, you will pay additional interest on this over the full term of the mortgage.
You can find out more about the costs associated with buying a home
First-time buyer options
Some schemes and mortgages are tailored to first-time buyers.
Most of these try to help overcome the biggest barriers to buying, such as saving up a big enough deposit. They include:
Low deposit mortgages
The Mortgage Guarantee Scheme
Help to Buy Equity Loan 2021-23
Shared ownership schemes
Parental support or guarantor mortgages
Learn more about choosing the right mortgage for you in our detailed guide to different types of mortgages
The home buying process
Although the order may change, and some things might happen at the same time, the below steps should give you a good overview of what needs to happen when.
Read our step by step guide to buying a house for more detailed information
How to buy your first home
Work out your budget. Consider your deposit, the extra costs of buying and how much you can borrow as a mortgage


Think about where you want to live


Get a Mortgage in Principle to get an idea of what you can borrow, and to show the estate agent


View properties


Make an offer on a property


Find a solicitor


Offer accepted? Now make a full mortgage application


Once you have made your full mortgage application, you can then pay for the valuation or upgrade to a survey


Following the valuation or survey, you'll receive a full mortgage offer. Your solicitor will commence working on the legal process


Research insurance and removals


Exchange contracts, pay the deposit and buy appropriate Building Insurance cover for your new home


Completion day. Once the funds have transferred your solicitor will call to tell you the property is now yours. Congratulations!
Buying in Scotland
Buying a property in Scotland has some differences. You make your highest offer for a property in a secret bid and arrange your mortgage in principle and solicitor in advance of this.
Read our step by step guide to buying a house for more detailed information
Choosing a property
Where you live
You may already have a location in mind but, if you're still deciding, consider the things that matter most to you.
Maybe that's local transport and how easy it is to commute to work, or perhaps you need access to local schools if you have a young family.
Does the area have the facilities you want, such as shops, restaurants or parks? Is it noisy or quiet?
Visit at different times of day, including rush hour and at weekends, to see what it's really like.
Type of home
Your preferred location is likely to impact what type of home you can afford. Researching properties and sold prices will help you understand how far your budget can stretch.
It can also be useful to make a checklist and split it into 'need to have' and 'nice to have' features. This will help you measure potential properties against your preferences.
Viewing properties
When you book a viewing, prepare for it by writing a list of questions in advance.
Ask about all the things that are personally important to you, but remember to consider property specific questions too.
Below are a few viewing tips:
Ask about the boiler, windows and the roof. Find out when they were installed and if there are any guarantees on them


Look for any signs of damp or mould but also signs of a fresh paint job. It can be a giveaway that the seller is trying to cover something up, but not always


Outside, look for any cracks in the brickwork and missing roof tiles. You may not be an expert but see if anything looks wrong and ask about it if so


If the property is leasehold, ask how much the ground rent and service charge is, as estate agents don't always list this information


Stay for as long as you need to get a real feel for the property and ask all of your questions. Ask if you can take photos on your phone so you can refer back later


Check the neighbours' properties and gardens to see if they look well kept. If you see them out and about, say hello and have a chat


If you are buying a newly built home, ask about what fittings are included in the purchase, whether a 10-year National House Building Council (NHBC) is included and whether the property is freehold or leasehold


If you are buying a new-build home off-plan – which means it hasn't been built yet – ask to see similar work by the developer and view it. Also check how many homes have been sold in the development and who has bought them. Is it families, retired people or young professionals, for example


If you need to go back for a second viewing, just ask.
The legal process
The legal process of transferring property ownership from one person to another is called conveyancing, and you can use a conveyancer or solicitor to do this work for you.
There's a wide choice from one man bands to large national businesses.
Your estate agent may even have a close relationship with the local solicitor to do conveyancing work (although you are not obliged to use their recommendation).
However, lenders do have lists of approved conveyancers, so you should make sure your lender is happy with whichever solicitor or conveyancer you choose.
What does a solicitor do?
The solicitor or conveyancer does all the legal searches that are needed before you buy a property and interprets the results for you.
These include local authority and water authority searches, a coal mining search and the Land Registry search. They also check the title of the property and look at any issues or covenants in the title deeds.
If anything comes up from the searches or the information from the seller, they will raise questions with the seller's solicitor to get the answers you need before you progress.
They also prepare the contracts for signing by both parties and liaise with the seller's solicitor to arrange exchange of contracts and completion.
Finally, your solicitor arranges the transfer of money for both the deposit and the balance (the mortgage).
How to find a solicitor?
A good solicitor will stay in regular contact with you and make sure you understand what is happening at each stage of the process.
Finding a solicitor can be difficult as there are many good solicitors to choose from, but a word of mouth recommendation from friends and family is valuable, especially if they have bought in the same area recently. You could also ask your estate agent.
Solicitors play an important role in the purchase of your property and while costs can vary, the reassurance of dealing with a solicitor you trust is invaluable.
Understanding valuations and surveys
When you make any big purchase it's normal to do a bit of research. But unless you are trained to assess properties, it can be hard to spot problems.
That's why valuations and surveys are so important.
A surveyor can examine a property and tell you if there are any problems and if they'd be expensive to put right.
At the same time your mortgage lender needs to value the property they are lending against. They will insist on a valuation of the property as part of the mortgage deal, which is often paid for by the lender.
What is a property valuation?
This is done on behalf of the lender for their benefit and is usually paid for by them. It will provide the lender (not you) with a valuation of the property for mortgage purposes.
A valuer will usually enter the property and, although they may spot major issues, they will not provide a detailed report of the property.
What is a survey?
In practice many people pay for a more detailed survey, such as a HomeBuyer Report or Building Survey. This gives you reassurance about the property you are buying.
You don't need to take out the valuation via your lender, but they may be able to upgrade you to a HomeBuyer Report or Building survey subject to payment of a fee.
You're also free to take out a survey in addition and separate to the lender's valuation with your own choice of surveyor.
The price of your survey will depend on the type of survey you request, the size of the property and also the value.
A survey is more expensive than a valuation but it's money well spent if it reveals a problem you wouldn't otherwise have spotted.
What is a HomeBuyer Report?
This a popular survey with clear but detailed information. You will receive a report back from the surveyor, including a valuation and a rebuild cost for insurance purposes.
It's useful if you are buying a standard property in a decent condition.
The surveyor will assess the general condition of the property and grounds, and will go into rooms and concealed areas, such as basements, but only if possible without them having to move furniture.
The report uses a traffic-light-style system, which orders any defects from the most serious, red, through amber and green. It might suggest which need to be repaired now and which can wait.
What is a building survey?
If you are buying an old property, you are planning building work, or you just prefer more detail, a building survey is a good idea.
It costs more than a HomeBuyer Report, but you will get very detailed information about the condition of the property and a full report on its structure.
As well as doing everything in a HomeBuyer Report a building survey will describe the risk of potential or hidden defects.
The surveyor will also suggest the cause of any defects they spot and the work you need to carry out to remedy them, as well as what would happen if you didn't make the repairs. They might even estimate the cost of any repairs.
Costs of buying a home
Buying a home is expensive, and on top of your monthly mortgage repayments there are many other costs to consider.
It's important that you budget for these expenses at the start of the process when you are working out your buying budget. Then you can decide how much to put down as a deposit.
Find out more about these costs in our detailed guide, the costs of buying a house
Typical costs associated with buying a property include:
Deposit: This is the biggest one and the bigger the better. But make sure you set aside enough for the costs below.


Stamp Duty: Many first-time buyers don't pay Stamp Duty, but some do, so it's worth finding out if you are liable for the tax and if so, how much you will pay.


Mortgage fees: A mortgage fee is also known as a product fee or arrangement fee charged by the lender when you take out a mortgage. These can vary in price. Lenders can also offer 'fee-free' mortgage deals, and most lenders will bolt this fee onto your overall mortgage so you don't need to pay it upfront.


Valuation or survey?: This is another significant cost and depending on the level of survey you choose and the property you are buying you can expect to pay from a few hundred pounds to over £1,000.


Legal fees: Solicitor's fees are another big cost which can vary in price. Solicitors fees includes the fee for their work and the 'disbursements', which are standard costs for searches and other essential work they need to do as part of the legal process.


Insurance: It's important to protect your property from damage as well as protecting yourself and your family from the risk of being unable to pay your mortgage.
You will need to take buildings insurance as a condition of the mortgage, but you might also want to consider contents cover, life insurance, critical illness cover and income protection. You are not obliged to take these products with the same provider of your mortgage.
Removals fees: You can hire a van, or get a professional removals firm in, but wait until you have exchanged contracts.


Estate agent fees: These are paid by the seller not the buyer but are usually charged as a flat fee or a percentage of the property price.


Bank transfer fees: This is usually a CHAPS payment fee for transferring your deposit money.


Leasehold costs: If you buy a leasehold property you may have to pay a ground rent and management charges. Find out what the exact costs are and if they can rise, as they vary enormously.


Maintenance and repairs: You might buy a home that's ready to move into but, if you are planning significant work, get a quote before you make an offer so you can work it into your budget.
Exchange and completion
What are they?
Exchanging on a property is when you and the seller exchange contracts, and you pay the deposit. At this point you are almost there.
Completion is when the actual transfer of ownership happens, and the remaining money is paid to the seller by your mortgage lender.
What do you need to do?
When the legal work is complete, the mortgage offer is in place, the survey has been done and both parties are ready, it's time to exchange contracts.
At this point you pay the deposit, which you transfer to your solicitor, and they make the payment. It's non-refundable once you've exchanged contracts but it's extraordinarily rare for anyone to pull out after this stage.
Now you just need to agree the completion date, typically a week later. Lenders will want to see that you have arranged buildings insurance on the new property at the stage of exchanging contracts.
Moving day
On completion day your solicitor calls you to tell you the transaction is done, and you are now the owner of your home. At this point you can collect the keys from the estate agent and move in.
Here's five things to remember on moving day:
Pack essentials in your car so they stay with you during the move. Medication, change of clothes, cleaning products, valuables, and a box with tea, coffee and milk can all travel with you


Label boxes for the room they are going to and ask the removals firm to put them in the correct place


Make the beds first so you can go to bed later without rummaging through boxes


Take a photo of the meter readings


Change your address with your bank, other financial companies, employer, the council and the DVLA.
If you can't pay your mortgage
If you are worried that you won't be able to pay your mortgage, get in touch with your lender. They will work with you to come up with a repayment plan based on your circumstances.
Find out more
Download our First time buyers guide for more information on buying a house.
You can also find out more about mortgages here