Here at The Co-operative Bank, our pioneering approach to banking means our values and ethics are at the heart of everything we do.
Our Ethical Policy has been shaped by our customers since 1992, and with sustainability rooted in our very foundations, we've worked towards reaching environmental milestones for the past 30 years.
And how have we done this? Well, we haven't financed the extraction or production of fossil fuels since 1998, and won't provide banking services to businesses that work in that sector.
We've been a carbon neutral business since 2007, becoming the first Bank to issue PVC-free credit and debit cards. In addition to this, 100% of our electricity is sourced from renewables, and in 2020 we achieved zero waste to landfill.
But we're not stopping there. In fact, we're only just getting started.
Watch a short video on how we have done this
Impacting the world for the better
We want our voice, and the voices of our customers, colleagues, and partners, to have a positive impact on the world by helping drive the action we need from other banks, the business community, and from the government. We've proven it is possible to stand up for what you believe and challenge the status quo. So, why can't everyone else?
That's why, as the original ethical bank, we're proud to be an ambassador of the Climate and Ecological Emergency Bill, join the Zero Hour campaign.
The Climate and Ecological Emergency Bill (CEE Bill) is the response to an urgent need for stronger, aligning legislation to tackle climate and environmental emergencies. It's the only proposed legislative plan that addresses the interconnections between the climate, environmental degradation, and biodiversity loss, and sets a clear direction for change.
The CEE Bill Alliance are calling on the UK government to push for critical outcomes to be agreed upon at the upcoming COP26 Summit in Glasgow, to tackle the climate crisis we're all facing.
These outcomes are:
Developing a joint emergency strategy for the climate and environment
Committing to a global carbon budget of 1.5°C (low emissions)
Becoming nature-positive by 2030.
On 21 October, ahead of the COP26 summit our CEO, Nick Slape, joined like-minded climate and ecological scientists, environmentalists, and MPs, to present an open letter addressed to the UK Prime Minister, Boris Johnson at 10 Downing Street. This letter called on the UK government to take decisive action and push the three key outcomes of COP26 Summit.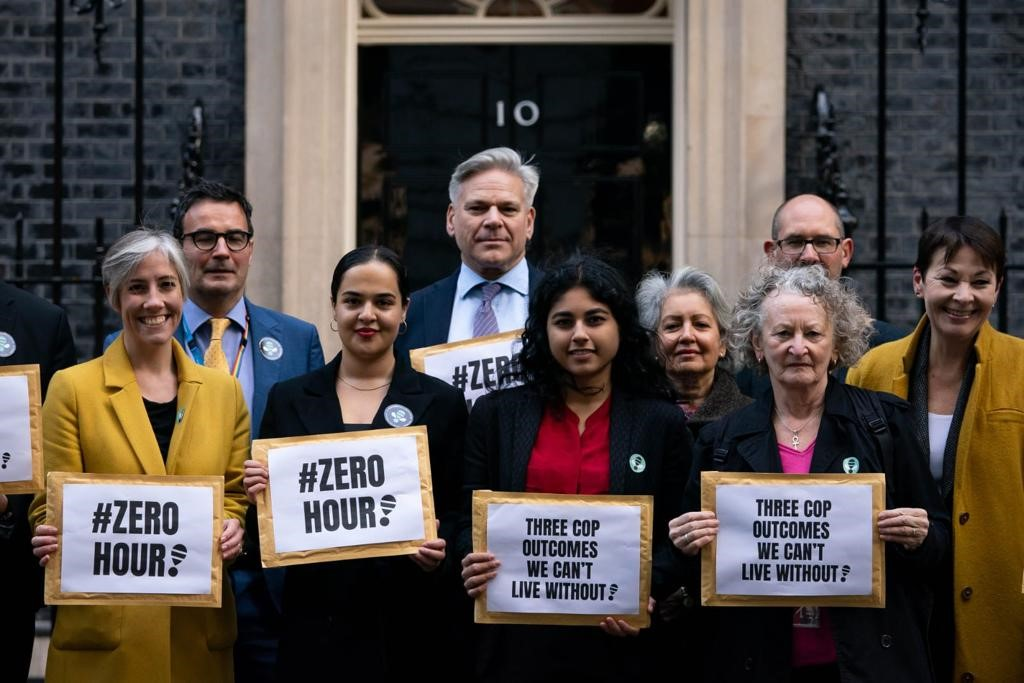 Throughout the conference, which is currently ongoing until 12 November 2021, we'll be campaigning for world leaders to take note and agree to the crucial outcomes outlined in the CEE Bill.
We encourage our customers to join us in making their voice heard by backing the CEE Bill.
No matter the outcome of the conference, The Co-operative Bank, together with our colleagues, customers, and partners, will continue to work with the CEE Bill Alliance in driving positive environmental change, because unfortunately the climate crisis isn't going to stop anytime soon. So neither will we.