Café Abundance Project
Café Abundance is a social enterprise that operates pop-up cafes in South East Cornwall as part of the Real Junk Food Project charitable foundation. In 2018 they received a grant of £700 from the Co-operative Bank's Customer Donation Fund. Jemma Morgan, Director of Café Abundance, told us more about the project.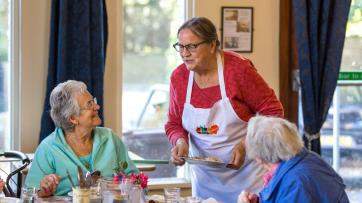 "Our ethos is to intercept food that would otherwise have gone to waste and turn it into healthy meals that we serve in pop up cafes in Torpoint and Rame. We work with local retailers to take their surplus vegetables, fruit and short-dated stock, diverting it from being sent to landfill or for incineration. We're currently providing around 70 to 80 meals each week for diners on a 'pay-as-you-feel' basis. This means that the great food we produce can be enjoyed by everyone in our community, so we're helping to increase social inclusion as well as helping the environment.
"Since receiving the grant from the Customer Donation Fund we've been able to buy a new freezer and our storage and preparation unit is much improved. We're now running two pop up cafes each week and are about to launch a community composting project as we've realised there's a large amount of unavoidable food waste produced that we want to be able to compost rather than sending for incineration. This will be much better for the environment and will also engage another section of the community with the whole Café Abundance project.
"Receiving a donation from the Customer Donation Fund has allowed us to intercept and store a greater volume of food which would otherwise have been wasted. This means we can feed more people within the communities that we hold our cafes in."
The Co-operative Bank's Customer Donation Fund supports Community Directplus customers with their special projects and fundraising. Our Community Directplus account gives registered charities, community interest companies, co-operatives and credit unions an ethical way to bank for free.
Read more about our Customer Donation Fund
Apply for the Customer Donation Fund
All Community Directplus account holders can apply for up to £1000 from the Customer Donation Fund to support special projects and fundraising activities. The closing dates for applications are March and September, and they will then be assessed in April and October. We will notify you of the outcome of your application. Apply using the form below.