Toy Library Project by Purple Elephant Productions
A Toy Library run by Purple Elephant Productions gives families in Frome and the surrounding area access to great quality toys without breaking the bank! Sue Willis, Director of Purple Elephant Productions, tells us more about their organisations and gives us an insight into how The Co-operative Bank's Customer Donation Fund is helping them to reach even more local families.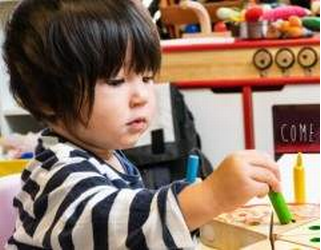 Giving children the opportunity to play and learn
"Purple Elephant Productions is a small non-profit company, run with the belief that all children should be given the opportunity to play and learn. We're helping to develop a strong and supportive local community by offering fun activities and events for children that are either free or low cost, with an emphasis on creativity, exploration and imagination. We aim to make everything we do as accessible as possible, with special consideration given to children with additional needs.
"We also run a Toy Library that supports around 150 young children in our community every year by allowing families to borrow from a huge range of good quality toys, games and books. The children can choose which toys they want to take home and bring them back to us to swap for something new after a few weeks. They can even take home a themed play sack, which brings together toys, books and music around a particular theme, such as cooking. It helps to keep the little ones interested and gives them a variety of play experiences without their parents having to spend lots of money or fill up their homes with toys. It's also great for the environment, as the toys and books are passed on rather than being thrown away once the original owners have grown out of them.
"It's important to us that the Toy Library is accessible to as many families as possible so we keep the cost of membership and our twice weekly stay and play sessions as low as possible. These sessions offer vital social benefits for families with young children, giving the parents an opportunity to have a chat and support each other over a cup of tea while they play with their children in a safe environment. They're run by an experienced key worker and include crafts, songs and story time, as well as healthy snacks.
Spreading the word and connecting more families
"In practical terms, The Co-operative Bank's Customer Donation Fund has allowed us to give better support to our volunteers. We've been able to issue them with new ID badges and safety mugs for hot drinks, buy a new fold and lock storage cupboard for small toys and cover the cost of insurance for the year. We've also been able to secure a new regular funding stream, as we've purchased donation tins which several local shopkeepers are kindly displaying on their counters.
"The grant has given us the funds to produce professional leaflets, which we're using to spread the word about the Toy Library so we can extend its reach and benefit even more families. The leaflets have helped us to connect with other organisations in Frome and the surrounding villages, such as Fair Frome which runs the local food bank. We're really excited about our plans to work together on a new referral scheme for families on low incomes.
"Our Toy Library is a vital service for so many local families with young children. We're very grateful because without the generous support of programmes such as the Customer Donation Fund we would not be able to continue these activities which are helping to support social inclusion and integration in our community."
Customer case study from 2019
Read more about our Customer Donation Fund
Apply for the Customer Donation Fund
All Community Directplus account holders can apply for up to £1000 from the Customer Donation Fund to support special projects and fundraising activities. The closing dates for applications are March and September, and they will then be assessed in April and October. We will notify you of the outcome of your application. Apply using the form below.