Trust Links
Trust Links is an independent wellbeing and mental health charity based in South East Essex. They offer training and support to people living with mental health conditions and unpaid carers, as well as recovery classes, employment support and social activities. With a commitment to building stronger communities and promoting sustainable living, Trust Links applied to the Co-operative Bank's Customer Donation Fund for help with financing their Growing Together project. Matt King, CEO of Trust Links, told us more about it.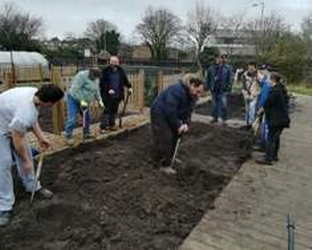 "Growing Together is a therapeutic community garden project not only for adults with mental health problems and learning disabilities but also for school groups, children and young people. We provide a range of activities including garden maintenance, planting seeds, harvesting vegetables, plant sales, woodwork and building projects.
"The project gives people an opportunity to work together to develop beautiful, sustainable gardens as well as offering our members training in various areas that will help them in the job market. Training includes a Diploma in Horticulture and we offer courses covering Health and Safety, Manual Handling, Healthy Living and also, Managing Anxiety and Depression. Finding work experience for our members is another service we offer to help get them back into employment and we provide in-house training and work placements for our volunteers.
"Growing Together is open to the general public, who enjoy visiting the gardens, buying plants and vegetables and supporting community events we hold. We put a lot of effort into keeping the gardens looking great, with all the environmental benefits this brings. Over 170 people regularly attend sessions at our community gardens in Westcliff, Rochford, Shoeburyness and Thundersley, so it's important we have sufficient tools and materials to run our groups effectively.
"Support from The Co-operative Bank's Customer Donation Fund has been fantastic to provide tools, seeds and compost for the Growing Together project. This project transforms lives through therapeutic gardening, training and peer support. Donations such as this help us to help even more people – thank you!"
The Co-operative Bank's Customer Donation Fund supports Community Directplus customers with their special projects and fundraising. Our Community Directplus account gives registered charities, community interest companies, co-operatives and credit unions an ethical way to bank for free.
Customer case study from 2019
Read more about our Customer Donation Fund
Apply for the Customer Donation Fund
All Community Directplus account holders can apply for up to £1000 from the Customer Donation Fund to support special projects and fundraising activities. The closing dates for applications are March and September, and they will then be assessed in April and October. We will notify you of the outcome of your application. Apply using the form below.